The festival of colors is speeding fast on a wheel towards us, bringing with it, a promise of a reunion of loved ones, buckets of happiness, delicacies, and blessings. Holi is celebrated as a festival of colors, it is also celebrated as a triumph of good over bad. Though the colorful festival brings us loads of joy, it also tends to damage our skin at the same time thanks to the synthetic colors.

"PREVENTION IS BETTER THAN CURE" is rightly said by someone. So, we are here with few skin and hair care tips for holi. Follow below given pointers to make most out of this joyous festival. Shed the fear of damaged skin and hair behind as these safety tips for holi will add to your revelry! Let's check out these holi safety tips for your skin and hair care.
Oil Your Hair
Before getting your hair dirty with all the colours and harmful chemicals, it is really important to oil your hair properly to save them from all the damage. Therefore, try this nourishing oil. Mix two tablespoon almond oil, two drops of lavender essential oil, a drop of rose essential oil and two or three drops of lemon and apply.
Moisturize
Dry skin allows the chemicals present in Holi colours to penetrate easily. So use a generous amount of moisturizer with sunscreen all over your body at least an hour before you start to play. Especially behind your ears and ear lobes as these are the areas one tends to neglect. Make sure that the moisturizer has an SPF as you do not want to catch a tan from the sun!
Cover Your Hair
Colours strip off the moisture, leaving the hair dry and rough for weeks, so wear a cap, bandana or scarf if you can to cover your scalp, for some added protection. Your scalp is more prone to getting itchy and irritated when it comes in contact with colour. By doing this, you add style to your outfit. So, throw on a stylish cap or a great printed bandana to look like the most stylish person at your Holi party! [caption id="" align="alignnone" width="722"]
source: huffingtonpost[/caption]
Sunglasses
Opt for a pair of old sunglasses while playing Holi so that you can protect your eyes. This way, you look fashionable too! If you don't own a pair of disposable ones, you can buy an inexpensive pair just for the occasion. Trust me, it will be money well spent.
Tie Your Hair
Don't leave your hair open, open hair soaks more colours and scalp also gets affected when it's open. Make a bun, side braid, French braid, or a simple ponytail, but make sure your hair is tied up. Standard braids, high ponytail, and top knot bun can be simple hairstyles or you can alter it in your own way.
Cover Your Body
Wear dark colour-full sleeves cotton clothes. Synthetics would be sticky and denims would be heavy once you have a bucket full of water splashed on you. Ensure that the clothes you choose to wear should cover maximum parts of your body. The best choices would be high-necks or full-sleeves. The rule; the more you cover your body, the higher are the chances of saving your skin from colour harm.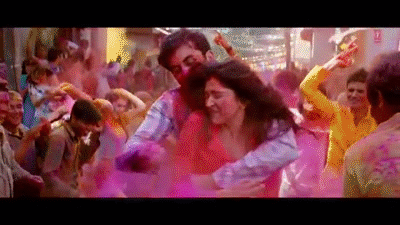 Shampoo
You may avoid washing your hair before playing Holi, thinking it will anyways get dirty. But when the pre-dirt mixes with colours, it can further damage your hair, making it rougher and vulnerable to breaking. So wash and condition your hair well before playing with colours.
Use A Face Mask
After playing Holi, it is one of the most difficlut task to get rid of all the colour, so we suggest a simple make-at-home pack that will help you get rid of all the colour without damaging your skin: Take two tablespoon of gram flour, add a pinch of turmeric powder to it, add a teaspoon of honey and then add milk/yoghurt to simultaneously moisturise your skin too. Keep this pack on for 15-20 minutes and then rinse it off with tepid water. You can use this pack on your entire body.
Gabruu.com wishes our readers a very Happy and Safe Holi.