People are connecting and sharing their stories to the world with the help of internet. While it seems questionable whether the older generations in India are much aware of it, a 106-year old lady named Mastanamma might just prove the suspicion wrong by becoming the oldest Youtuber in the world!
[caption id="attachment_42176" align="alignnone" width="1280"]
Source[/caption] Mastanamma, originally hailing from Gudiwada, in Krishna district of Andhra Pradesh, has garnered over 1 million subscribers on her channel
'Country Foods'
. [caption id="attachment_42181" align="alignnone" width="700"]
Source[/caption] Mastanamma likes to do all the chores by herself and denies any assistance from her children and grandchildren. She loves cooking and telling her lifetime stories. She is amazing at cooking seafood and egg dosas. What makes it even more beautiful is that she cooks in the serenity of nature. [caption id="attachment_42179" align="alignnone" width="996"]
Source[/caption]
Her grandson, Laxman Karre came up with the idea of putting Mastanamma's videos on his YouTube channel 'Country Foods'. It all happened when the channel was not getting an overwhelming response. Laxman and his friend-cum-partner, Srinath Reddy had come to Laxman's home for a few days and noticed the lady's love for cooking.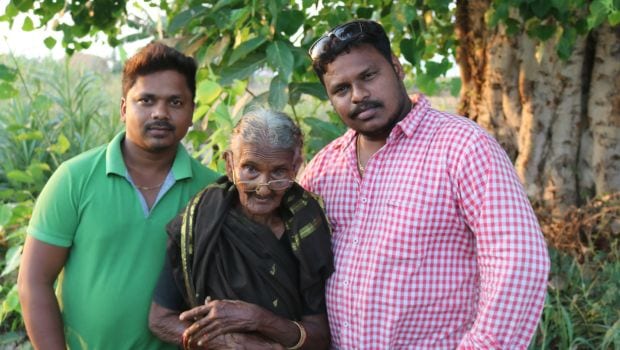 The above picture shows Mastanamma with her grandson Laxman Karre and his partner Srinath Reddy.
Well, we never started our YouTube channel with Mastanamma. Back in the year 2016, we started a channel called Country Foods for bachelor's, where we showcased simple recipes that could be easily cooked and savored. We didn't get a lot of traction then. After around four to five months, we went to Laxman's village home in Guntur District in Andhra Pradesh. That's when I met Laxman's granny Mastanamma. While we stayed there, we saw granny cooking traditional food with such ease at such an old age. That's when Laxman and I decided to make two to three videos with Mastanamma preparing different dishes and uploaded them on our channel. We received brilliant viewership within a few days of uploading the content. People loved Mastanamma, her style, and her dishes. We saw so many positive comments and that's when we decided to do more videos with her
Not just Indians, but people from around the world love this lady for her simplicity and Indian-ness. Her wrinkled face with a sweet smile and young heart shall always be an inspiration for the world.
To know all about everything amazing, keep reading on Gabruu.com!